It's time to gather around our favorite team to experience together all the emotions of this championship final and book a place for the playoffs. For this reason, a unique opportunity is on its way to fill the stands of our stadium and drag Palermo along as only a Barbera full of voices and colors can do.
For the last four home games - against Cosenza, Benevento, Spal and Brescia - those who are not already season-ticket holders will have the opportunity to subscribe to the Final Pack, a special mini-season ticket that will allow them to attend the matches at a discounted rate compared to the cumulative price of individual matches. A pledge of faith for the final rush, which gives access to an unmissable combination of advantages: on the one hand, a substantial economic saving on the price of the matches (up to an entire free match among the four purchased); on the other hand, the preemption on the purchase of tickets in any playoff games, with a thought to last season's sold outs.
Here are the details of the ticket prices for each sector: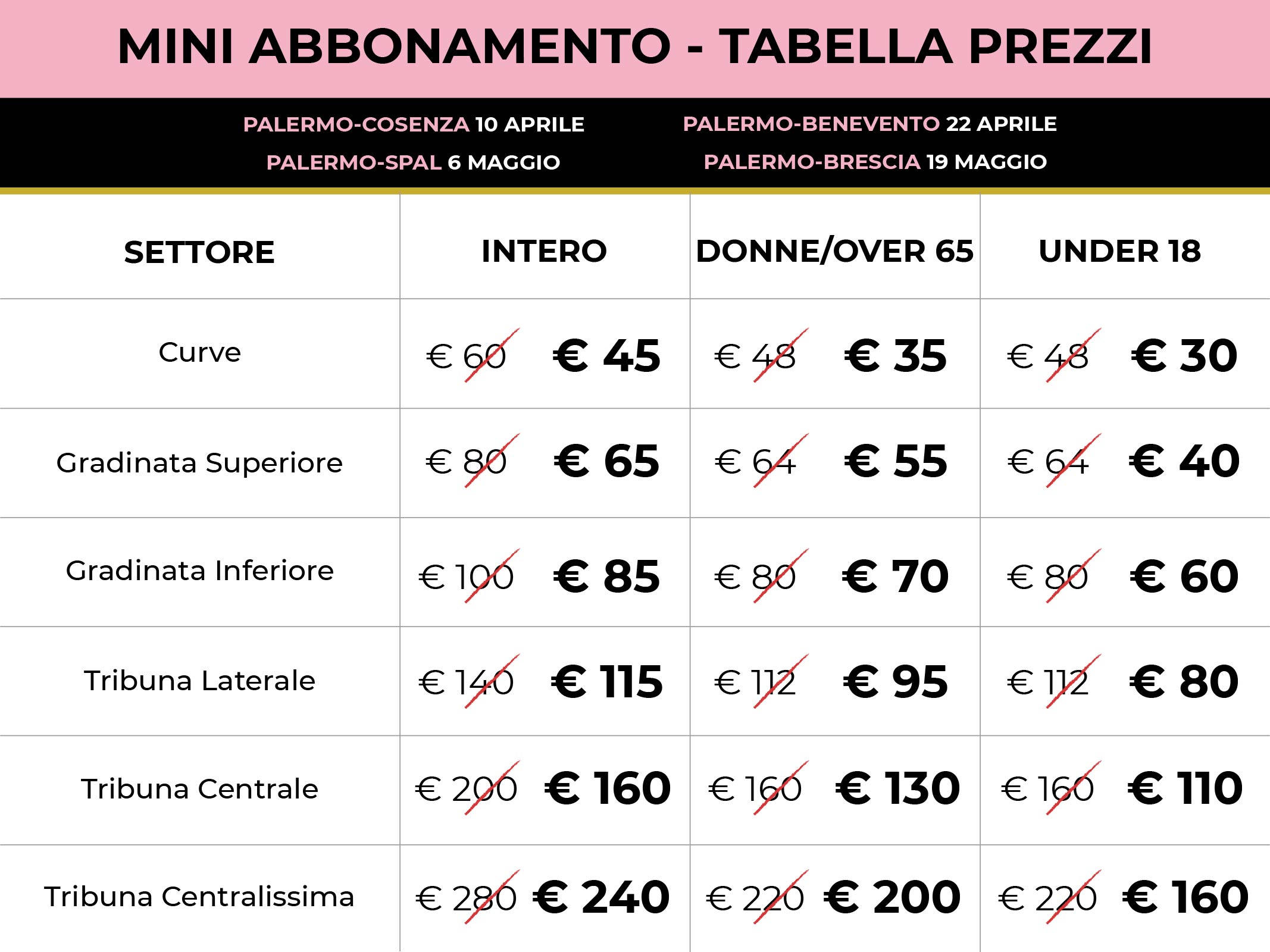 The mini-season ticket will be on sale online (on vivaticket.com) and in all Vivaticket sales points in Italy, from Tuesday 28th March from 4.30 pm until the kick-off of the Palermo VS Cosenza match. With the title purchased (printed at home if subscribed online or received directly as a physical ticket if subscribed at the point of sale) the "mini-subscribers" will therefore have the possibility of accessing all four scheduled matches (it is essential to always have the title).
Seasonal Subscribers:
Unmissable advantages also arriving for season ticket holders, who in any case, for the four games in question, already benefit from an even lower unit rate than the mini season ticket. In addition to the pre-emption ticket purchase for any playoff matches, for each of the last four matches each season ticket holder will have the opportunity to repeat the "Always by your side" promo and therefore purchase an additional ticket for a friend or relative with the 50% discount in any sector (this promo, starting from the match against Benevento, will also be extended to mini-subscribers): a way to "infect" many other people with the Rosanero passion.